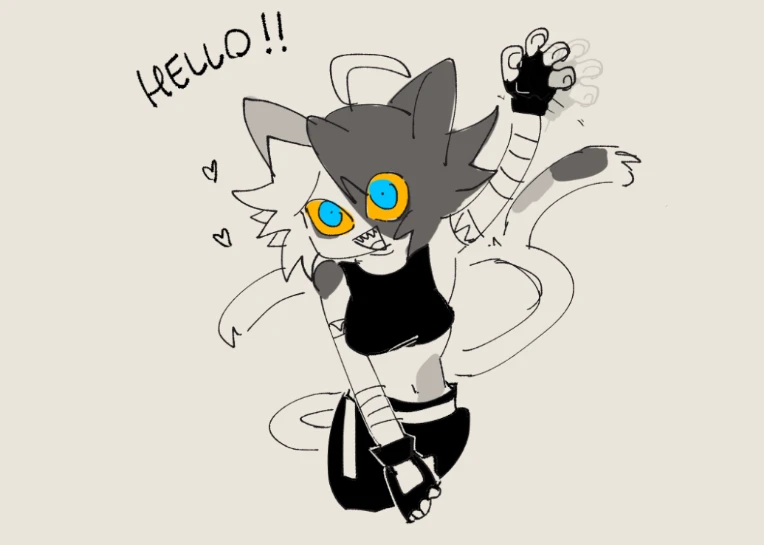 ok since im getting a surge of attention from this front page and i never properly introduced myself on ng i thought itd be a good time to start
hi! im siu !! im grill but i go by it/its pronouns mainly. im a highschooler n i love 2 draw. im from hk and my first lang is chinese so my english may be all >$>%:#$ sometimes. this calico cat person is what i use to represent myself, her name is mikeko and i have a full ref of her right here --> bam !! someday, if possible, i would love to make a career out of my art and work as some kind of concept designer or character artist.
primarily i draw fanart but i will try to do more original works from time to time. my fav things to draw are hot bodies so a lot of my artwork end up coming off almost pinup-ish because of it, haha. techwear/cyber inspired things i am also very fond of. i tend to draw a lot of ship art as well >> woops but mostly just whatever looks cool/sexy to me.
i didn't grow up with ng unfortunately, but i've managed to discover this community thru fnf like a lot of other people have and it jsut seems so epic cool and i would love to be apart of it if you would all have me !!! n i'd love to talk to more people on here :DDDD feel free to comment here if you'd like to chat and introduce yourself as well!
outside of ng, i'm usually here on my twitter. i also have stuff like instagram and lofter under the same handle
anyways thats all just thought it'd be neat to try 2 do a little intro yeah thats it bye bye !!!!!!